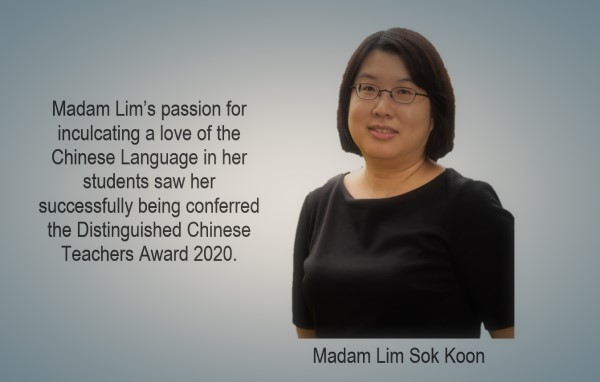 We are pleased to announce that Madam Lim Sok Koon, a teacher from the Mother Tongue Languages Department at Jurong Pioneer Junior College (JPJC), is one of a select few individuals who have been conferred the Distinguished Chinese Teachers Award 2020.
The award, which is in its 23rd year, recognises Chinese Language teachers who have demonstrated exemplary effort in teaching the language and culture. It was created and organized by Lianhe Zaobao, zaobao.sg, and ZB Schools, and endorsed by the Ministry of Education.
Madam Lim became a teacher 23 years ago, and initially left the Education Service in 2001 – only to rejoin the teaching fraternity in 2009. As a teacher of Chinese Language & Literature and the Mother Tongue Language 'B' Syllabus (Chinese), Madam Lim is passionate about sharing her knowledge and inculcating an appreciation of the Chinese Language in her students. She is well-loved and respected by students for her calm and reassuring demeanour as well as her kind and patient personality. In a brief e-interview with Madam Lim, she mentioned that she finds joy and motivation from the knowledge that being a teacher is a very meaningful profession. "We impart skills and knowledge, but at the same time, we are also playing our part in moulding our students for the better," she added.
Congratulations Madam Lim, on your Distinguished Chinese Teachers Award, and we thank you for the hard work and dedication in shaping both the minds and character of JPJC students!