Tiffany Grace Sajoto (20S14)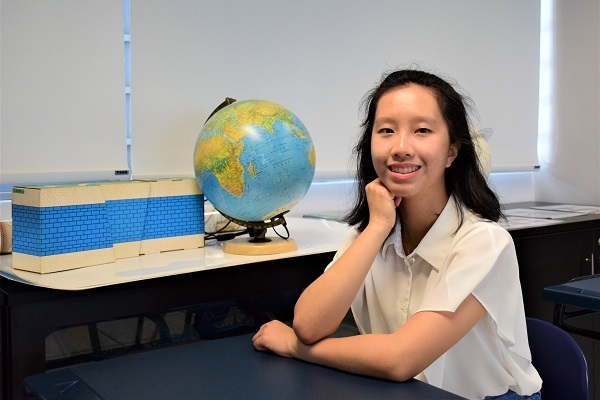 The Sky's The Limit, No Hurdle Is Ever Too High
"There are no limits and anything is possible. You can achieve anything if you really want to. The sky's the limit." When it comes to Tiffany Grace Sajoto, this phrase is not merely a feel- good inspirational quote, but a true mantra and philosophy for her life thus far, despite her youth and all that she had to overcome.
From a tender age, Tiffany was diagnosed with developmental difficulties. While they continued to affect her to some extent during her teenage years, the period of her secondary school education was when she experienced a life-changing awakening. "The sudden change in classroom size, from the 10 classmates that she was used to, to a considerably larger number– I felt different, so out of place, so small," Tiffany recalls. It didn't help that not fitting in and not being able to relate to the situation around her haunted her, and made young Tiffany feel hopeless and isolated. After some moping around and feeling sorry for herself, the usually positive and strong-willed girl decided that "enough was enough", she recalls.
Tiffany got to work immediately. She decided to reach out to her secondary school teachers for help. Coupled with Tiffany's own amazing determination and positivity, she discovered that not even the sky could limit her as long as she set her heart and mind to doing something. Academically, she engaged in additional daily learning routines. Socially, she became more adept at interacting with her peers. Through these seemingly small but highly effective coping mechanisms, Tiffany worked out her own system of overcoming her personal developmental challenges. Her efforts bore fruit and she excelled at the GCE O Level Examination and enrolled into Jurong Pioneer Junior College (JPJC). While secondary school was a place where Tiffany discovered her inner strength to develop a resilient spirit, JPJC was the place that gave her wings to fly. "The nurturing school environment and culture made it easier for me to adapt to the new JC system. Coupled with the smaller class sizes and caring teachers, it made the transition smoother," Tiffany recalls. Armed with greater confidence and a strong conviction to achieve even more, Tiffany demonstrated immense discipline and maturity when she entered the college, proactively immersing herself in the myriad activities and rich experiences that the college offered. "At the beginning of my time in JPJC, I was already pretty sure I wanted to join the Singapore Navy," Tiffany shared, "But while I was very sure of this dream and goal – I didn't really know why I wanted it at first."
But as Fate had it, Tiffany was able to develop a true sense of purpose, which gave her the wings to soar. "Due to my developmental challenges, it took me a while to gain confidence. For the first time in my life, I held a significant leadership position. I could no longer be the passive observer that I was in secondary school. I now had to be an active participant in decision- making and resolve conflicts within my CCA. Thus, I faced initial challenges such as balancing multiple perspectives and creating a suitable compromise and solution," she shared. Slowly but surely, as the Vice President of the college's International and Current Affairs Society (ICAS), Tiffany matured as a leader who also mentors and empowers her peers. Tiffany is grateful to the strong Alumni network of CCA seniors who readily dispensed sound advice whenever she faced difficulties in her leadership role. "Their advice guided me in my leadership journey, helping me to gain confidence in leading the CCA." What was "equally precious", was how this involvement fatefully triggered her interest in international diplomacy when she organised and facilitated an interactive college-wide International Friendship Day Civics Lesson package for her peers about vaccine diplomacy, foreign relations and territorial sovereignty. "It was one of those 'aha!' moments that strike you, so suddenly out of the blue – even I was struck by it and how it came about," Tiffany admits, I found a link, a reason, the beginning of a clear impetus for my goal to join the Navy – I realised I was deeply intrigued by this aspects, and I wanted to play my part in Singapore's maritime diplomacy."
And what Fate had begun, Fate continued, and Tiffany did her part to carve out her own life's path through the encounters and experiences she went through in the college. Intense discussions about future careers and university application during Civics lessons and with her Civics Tutor, Mr Tan Jian Lin, led her to think deeply about what choices she should made regarding her course of study, and how it would affect her future career goals. "I think my experience of going through my personal developmental obstacles in my younger teenage years has made me more focused, driven and mature in my pursuit of an A Level education here. I didn't really struggle with my studies and fitting in here in JPJC, because I was so committed. But I must say that without the guidance and concern of my teachers, especially Mr Tan, I do not think I could have maximised my growth and potential as I did, I wouldn't have known that I could take this many courses even if I wanted to sign on with the Navy," Tiffany reflects with heartfelt gratitude. Consequently, as she was interested in serving in the defence of Singapore, Tiffany looked at the multiple pathways she could take, such as the Home Team Science & Technology Agency and the Singapore Armed Forces (SAF). Eventually, Tiffany applied to join the SAF and also a DSTA scholarship.
Tiffany was also grateful for the opportunity to take A Level Project Work (PW), because the subject allowed her to see beyond the curriculum and opened her eyes to pertinent social and environmental issues around the world today. More importantly, through her interactions with her PW group mates, Tiffany honed her personal philosophy when her sense of purpose and personal mission were still rather nascent in JC1. One of her group mates was a key source of inspiration to strive for excellence. "There was this friend in my group who was always working so hard for everything - not just academic subjects but in all aspects, and while I was driven at that point in JC1, I think I hadn't really found my focus yet. So I asked her why she was like that, and the reply that came clearly shocked and jolted me. She said that "if she didn't set high standards for what she believed in, she feared what kind of person she would become," Tiffany shared, "I was floored – I thought I was mature, that I had grown a lot and that I just needed to focus on my external goals, but this small encounter really changed the way I looked at myself, and the way I saw my personal development and success. I don't have to be the best, but I ought to try my best and take that step towards outdoing not others, but myself. "
Stepping out of her comfort zone consequently became a personal mantra for Tiffany, as she grew her wings and took active steps to work towards securing entry into the Navy. Even as she prepared for her GCE A Level Examinations in JC2, Tiffany worked consistently on her physical fitness with a training schedule, and directly sought guidance and support from the Head of Department (HOD) of Physical Education, Ms Leo Ying Ching. She received tips on how she could improve her running form and worked towards better preparing for enlistment. And at long last, after completing her A Level Examination last year and graduating from the college, she was ready to fly. Tiffany signed on as an Army Engineer (Military Expert Scheme) with the Singapore Navy.
"I strongly believe that the Navy's important role in Singapore should be better appreciated. Maritime diplomacy and its ensuing tensions are very important to Singapore's survival I want to play a role in this aspect. This is my end goal, but also the beginning of my new journey out beyond that deep blue ocean", Tiffany smiled. She recalls how she first developed her desire to join the Navy, and laughs sheepishly when sharing that it was "really only because she loved how blue the ocean was at first." Hence, her advice to her juniors is that "you never know unless you try", even if it may seem very simple and foolish at first. "Take that first step, and step out, do what you can, because it is YOUR life and no one else's. You will only find out if you really can and you really want to, when you've taken that first step."
Tiffany hopes to read Computer Engineering at the National University of Singapore.