Vinay Vanjre Ravi (20S23)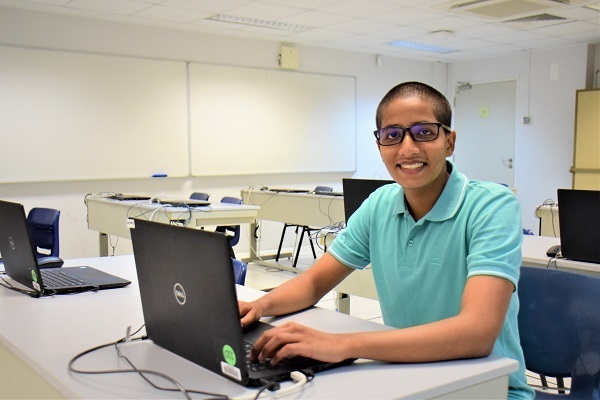 He wants to be the future of Singapore's technological drive
'The possibilities of creating technological solutions for communities are endless, and I want to be part of Singapore's efforts to transit into Industry 4.0 to be a hub for the fourth industrial revolution.' One might wonder how such a visionary statement could come from such a young man, but Vinay Vanjre Ravi is no ordinary young man. From a tender young age, Vinay had already set his sights on pursuing a journey in Computing and contributing to Singapore in this field. 'My interest in Computing was ignited in Secondary Four when I realised the capabilities of technology in making daily life easier. From applications like Grab to the larger internet, life has become more convenient due to technology. As such, I was motivated to learn how to use technology so that I would be able to help people. I quickly found myself at my desktop finding tutorials on how to code in Python because, in my opinion, it seemed to be one of the more universal syntaxes to learn, out of all the popular programming languages', he recalls.
After completing his 'O' Level examinations, Vinay enrolled in Jurong Pioneer Junior College (JPJC) and took up H2 Computing. His Civics Tutor, Mr Chin Fook Sing observed that Vinay clearly displayed a joy for learning in every subject and was impressed by his relentless efforts in arranging consultations after structured lessons. His Computing tutor, Mr Lai Wai Liang, also noted Vinay's keen interest in learning the subject. The Computing tutors thus decided to give him more exposure and opportunities to develop his skills. As his other Civics Tutor, Ms Lee Jia Min recalls, 'Vinay was that boy, whom you could immediately see, was truly interested in learning.' 'He was that student, who hung around outside the classroom after lessons, engaging his tutors, like for Physics or Computing for example, and you can tell that those were truly intellectually stimulating and enriching conversations for all parties involved!' she laughs.
Despite initially having limited experience and being self-taught, Vinay actively participated in several competitions including the NTU School of Computer Science and Engineering (SCSE) Cloud Computing Challenge 2021, DSTA BrainHack 2020 and Shopee Code League 2021 where he delved further into learning more about real-world problems and finding solutions to them. 'I was pushed out of my comfort zone when I had to lead my team in learning additional concepts to tackle the problem statements. One problem I encountered was when I had to write code to convert handwritten numbers into computable numbers by the computer. Through tackling these problems, I realised that there are various solutions to one problem and creativity will go a long way towards solving them. I learnt that when problems are tough, I should become tougher.'
He chose to pursue his passion even in his choice of Co-Curricular Activities (CCA) in college. His resilience, excellent management skills and goal-driven nature stood out among his peers, and he was consequently selected to lead the college's InfoComm Club as its President. Despite many of the CCA sessions having to be conducted virtually as a result of the COVID- 19 pandemic, he strove for cohesiveness between his team members. His inclusive leadership style was apparent, as he handed over the baton to his other members to give them opportunities to lead the sessions as well, so that everyone had a part to play. The teachers in-charge of the InfoComm Club, Ms Lynsey Lee Yoke Cum and Mr Pang Kang Ming mentioned that as a result of Vinay's excellent leadership skills, "Vinay's batch saw one of the most cohesive teams the Infocomm Club had ever received."
Vinay was also a firm believer of giving back to the community and chose to do that in the exact area he was most passionate about - Computing. He planned and initiated a CCA-based Values in Action (VIA) activity for students from Gan Eng Seng Primary School. He led his Infocomm Club team to share with the students the potential of technology through Scratch programming, as well as the risks associated such as cyberbullying and phishing. 'The endless hours put into planning this activity were worth it especially after the heartening feedback from some students on how enlightening it was. I felt fulfilled that I was able to make an impact on the future generation, and inspire them to be interested in technology too.' Vinay reflected. This was not the first time he merged his passion for technology and Computing with his desire to give back to the community. He shared that he undertook another VIA project as Vice President of the Robotics Club in his secondary school in 2018 as part of the Global Classroom Experience to teach students in Chiangmai, Thailand, about Robotics. 'I taught them to build a robot and programme it using Scratch programming. It was really tiring and a major project that required a lot of planning and coordination, but the encouraging comments by some students who shared about how they were then inspired to pursue technology related courses in their further education – wow, that was mind-blowing, and I felt fulfilled.'
The COVID-19 pandemic posed new challenges for Vinay's cohort. For Vinay, Home Based Learning (HBL) was a unique experience and it took time for him to get used to the demands that it entailed. Despite the initial challenges, he chose to see the benefits of this newly adopted way of learning. He was able to understand the content better by watching lectures repetitively at his own pace, leveraging on the flexibility of this mode of learning. To further enhance his learning, he arranged virtual consultations with his teachers. 'I am so grateful to the help rendered by all my teachers in JPJC, for always marking my extra work and making time for consultations. They also gave me opportunities to represent the college and develop me further, in terms of my values and leadership skills. I am also grateful to the college for implementing COVID-19 preventive measures so smoothly and seamlessly and providing me with various opportunities for me to develop myself holistically in these difficult times. I appreciate the college's efforts to, as much as possible, conduct lessons and activities that were present before the COVID-19 pandemic in a different fashion, that hence still allow every student to experience the JPJC culture and learn well.'
Apart from a nurturing school environment and opportunities beyond the home, Vinay's family was also instrumental in helping to shape the young man and sow the early seeds of interest in technology and Computing. The son of a Senior Manager at Seagate Technology and a homemaker mother, Vinay credits his family for the person he is now. 'My family offers me the greatest support for my achievements. Whenever I achieve something, no matter how big or small, my family never fails to shower me with praise and encouragement to keep up the good work. This gives me the drive to do my best in performing my duties. For example, when I received the Edusave Awards for Achievement, Good Leadership and Service (EAGLES) in 2021, my family congratulated me for receiving this prestigious award and motivated me to keep up the good effort – I really didn't think much of it, it was an excellent and reputable award but not tremendously big and yet they were so positive and happy – they are really my engine, my happiness.' His fondest memories with his family are going on overseas trips and playing Lego together. 'We usually build interesting structures together such as vehicles and houses and I really treasure family time.'
Asked for his advice for the younger generation, he immediately offers wise words of wisdom. 'Treat this year as a fresh one. Focus on the things you can control and ensure they are done to the best of your abilities. Do not be attached to the results but instead focus on the path to reaching your goals. Have an aim, dream high and work towards it. Even if the goal may not be reached, you know you have done your best.'
'As someone who loves interacting with people, I am always reminded that I have to give back to my family and country after all that they have contributed to developing me as a person.' Vinay received the 2021 Computing@SMU award which offers him priority admission to Computing courses and he hopes to be involved in development of key areas in Singapore such as machine learning and artificial intelligence in the future.